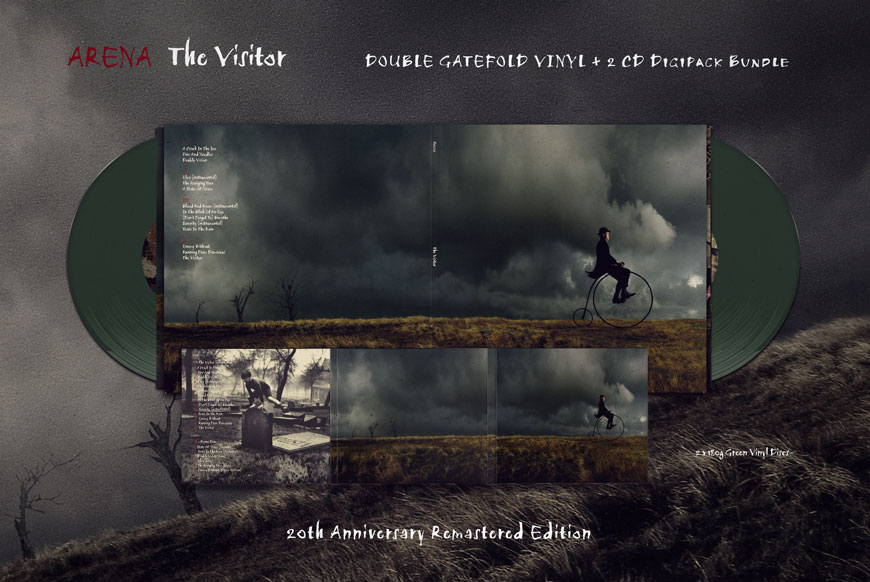 Order the Vinyl and CD Bundle and save £5, pay only for Vinyl Postage.  Released on 1st March 2018
For the first time ever, The Visitor is now available to Pre Order on Vinyl!
Originally Released in 1998
Produced by Clive Nolan and Simon Hanhart (Assisted by Mike Stobbie)
Recorded & Mixed at Thin Ice Studios, Surrey
Mastered at Abbey Road Studios by Chris Blair
Art & Design by Hugh Syme
Remastered by John Mitchell at Outhouse studios from the original DAT tapes taken from Abbey Road Studio.
Gatefold Vinyl
Including a bonus poster designed by Hugh Syme (and signed by the original Arena Visitor band members Mick Pointer, Clive Nolan, John Mitchell, Paul Wrightson & John Jowitt, Please note that Only the poster will be signed, not the Vinyl or Digipack)
Side One
1. A Crack In The Ice
2. Pins And Needles
3. Double Vision
14:36
Side Two
4. Elea (instrumental)
5. The Hanging Tree
6. A State Of Grace
13:25
Side Three
7. Blood Red Room (instrumental)
8. In The Blink Of An Eye
9. (Don't Forget To) Breathe
10. Serenity (instrumental)
11. Tears In The Rain
17:52
Side Four
12. Enemy Without
13. Running From Damascus
14. The Visitor
15:48
CD Digipack
TRACK LIST
DISC 1
1. A Crack In The Ice 7:27
2. Pins And Needles 2:46
3. Double Vision 4:24
4. Elea (instrumental) 2:36
5. The Hanging Tree 7:09
6. A State Of Grace 3.26
7. Blood Red Room (instrumental) 1:47
8. In The Blink Of An Eye 5:29
9. (Don't Forget To) Breathe 3:40
10. Serenity (instrumental) 2:10
11. Tears In The Rain 5:43
12. Enemy Without 5:05
13. Running From Damascus 3:44
14. The Visitor 6:18
DISC 2
Two extra acoustic tracks recorded for radio at the time of recording the visitor in 1998 featuring Paul Wrightson, Clive Nolan & John Mitchell – 3 Live Tracks and a Demo
1. A State Of Grace (Acoustic)
2. Tears In The Rain (Acoustic)
3. Double Vision (Live)
4. Elea (Live)
5. The Hanging Tree (Live)
6. Enemy Without (Demo Version)