The Demon Strikes
How Did it Come to This?
The Bishop of Lufford
Oblivious to the Night
No Chance Encounter
Markings on a Parchment
The Unquiet Sky
What Happened Before
Time Runs Out
Returning the Curse
Unexpected Dawn
Traveller Beware
All pre-orders will be mailed out on Monday 23rd March (one month ahead of the Official Worldwide Release date of 27th April).
The only other place to buy the album before 27th April will be from the Merchandise stall on our upcoming tour!
All of the artwork has been created by the ever talented Kylan Amos!
Wed 11th Feb : gathered for todays photoshoot with Prog Magazine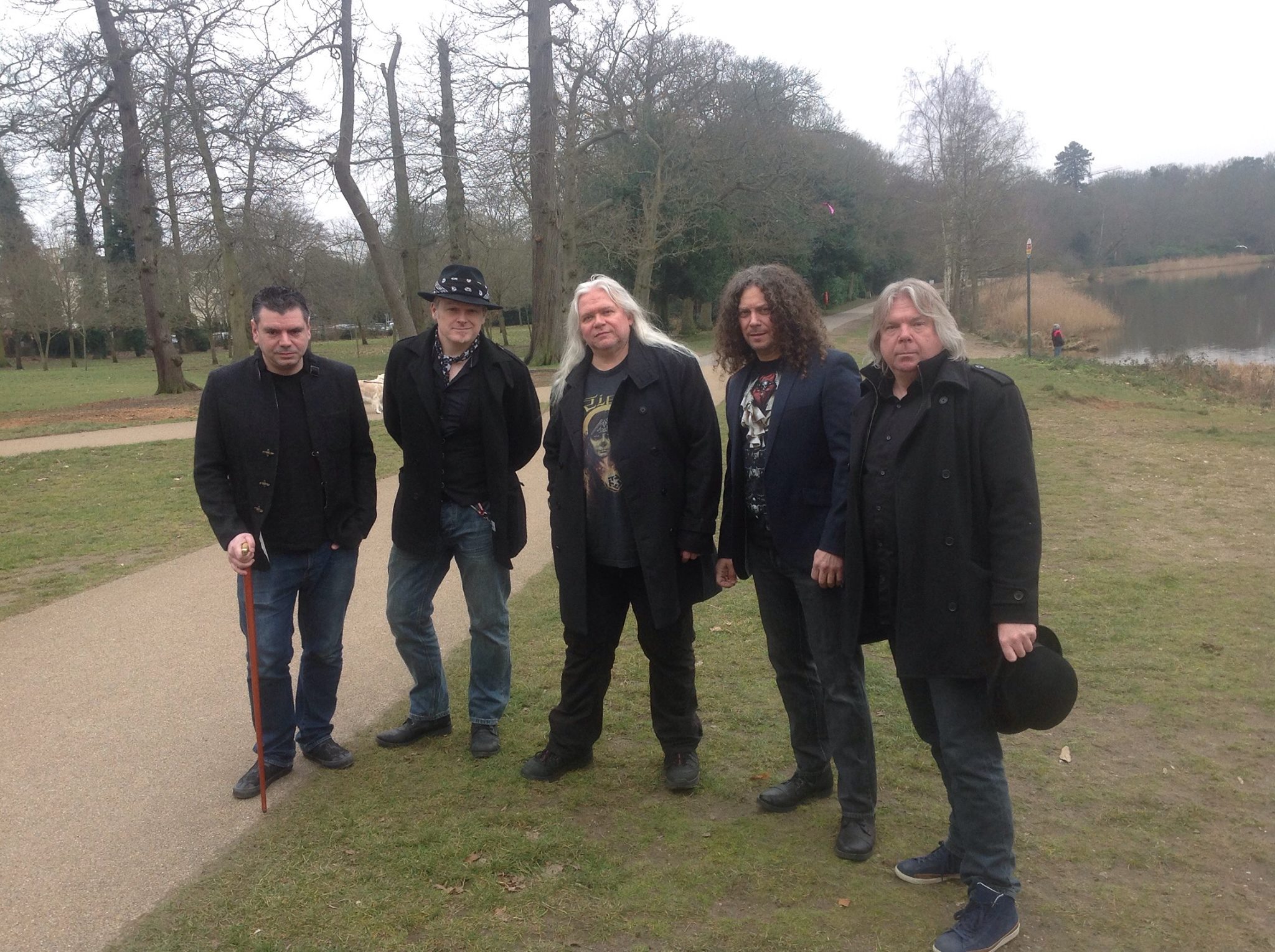 Here are the dates for the 2015 tour to celebrate our 20th Anniversary and accompany the release of the new album, "The Unquiet Sky"
| | | | |
| --- | --- | --- | --- |
| | 19th March 2015 | The Borderline | London, England |
| | 20th March 2015 | The Citadel | St Helens, England |
| | 21st March 2015 | Montgomery Hall | Wath, England |
| | 22nd March 2015 | Assembly Rooms | Leamington Spa, England |
| | 27th March 2015 | Spirit Of 66 | Verviers, Belgium |
| | 28th March 2015 | Rock Ittervoort | Ittervoort, Netherlands |
| | 29th March 2015 | Bambi Galore | Hamburg, Germany |
| | 30th March 2015 | Hypothalamus | Rheine, Germany |
| | 31st March 2015 | Hedon | Zwolle, Netherlands |
| | 1st April 2015 | Colos-saal | Aschaffenberg, Germany |
| | 2nd April 2015 | Zeche Carl | Essen, Germany |
| | 3rd April 2015 | Paulette Pub Rock | Nancy, France |
| | 4th April 2015 | Wollfabrik | Heidelberg, Germany |
| | 5th April 2015 | Bergkeller | Reichenbach, Germany |
| | 6th April 2015 | a38 | Budapest, Hungary |
| | 7th April 2015 | Majestic | Bratislava, Slovakia |
| | 8th April 2015 | | Travel Day |
| | 9th April 2015 | Rialto | Katowice, Poland |
| | 10th April 2015 | Proxima | Warsaw, Poland |
| | 11th April 2015 | Blue Note | Poznan, Poland |
| | 12th April 2015 | Reigen | Vienna, Austria |
| | 13th April 2015 | Ausburg | Germany |
| | 14th April 2015 | Z7 | Pratteln, Switzerland |
| | 15th April 2015 | Club Il Giardino | Verona, Italy |
|   | 16th April 2015 | | Travel Day |
| | 17th April 2015 | Bikini Bar | Barcelona, Spain |
| | 18th April 2015 | Minnuendo | Peralta, Spain |
| | 19th April 2015 | Sala Lemon | Madrid, Spain |
| | 20th April 2015 | Paradise Garage | Lisbon, Portugal |
|   | 21st April 2015 | | Travel Day |
| | 22nd April 2015 | Connexion | Toulouse, France |
| | 23rd April 2015 | Marche Gare | Lyon, France |
| | 24th April 2015 | Divan du Monde | Paris, France |
| | 25th April 2015 | Boerderij | Zoetermeer, Netherlands |
| | 26th April 2015 | Centre Culturel | Soignies, Belgium |